Zlatan Ibrahimovic slams Super League plans
When Footballers put their differences aside, and join hands. Super League will find it difficult to survive.
Zlatan Ibrahimovic : "I will play for Sweden. I just came back to my national team last month and someone in Madrid who has never played football in his life, wants to see me and other Footballers out of Euros and World Cup, it's insane. It's do or die. I will play for my Country. I can find another club if it continues like this. There is Malmo in Sweden for me.
There is sporting Lisbon in Portugal for Cristiano and there is River plate in Argentina for Lionel Messi, these Players should be in international football, I know they're thinking exactly what am thinking although they haven't come out yet, once they come out you will see that Footballers are powerful than owners. Playing for sporting Lisbon, River plate and Malmo won't stop our qualities, but it will save football from this disaster "
Which teams want the Super League?
Twelve clubs have signed up – six of them from the English Premier League.
Arsenal, Chelsea, Liverpool, Manchester City, Manchester United and Tottenham, have joined AC Milan, Atletico Madrid, Barcelona, Inter Milan, Juventus and Real Madrid.
The clubs want to carry on playing in their respective national leagues, but would also play each other in a new midweek competition.
The new league would rival the existing Champions League, one of the biggest club tournaments in football.
The plan is for the ESL to have 20 teams. Of these, the 12 founding members – plus three yet to join – would be permanent and never face relegation.
Five other sides would qualify from across Europe each year.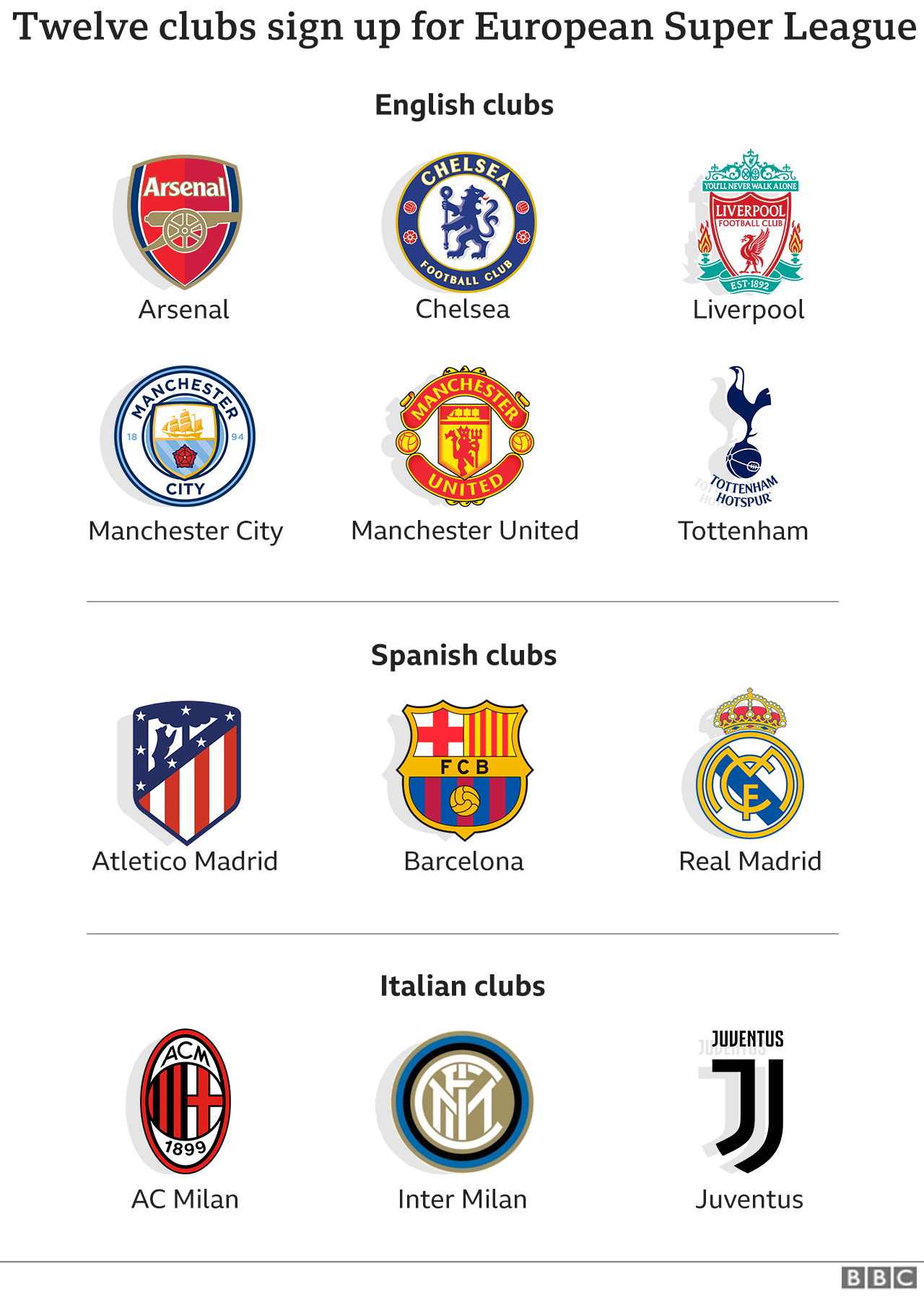 Why is the plan so unpopular?
The move has been condemned by fans, pundits and by most football bodies not involved.
With 15 teams in the ESL not facing qualification or relegation, one of the main criticisms is that it would be unfair and uncompetitive.
For instance, Arsenal, which has not qualified for the Champions League since the 2016-17 season, would be guaranteed a place, regardless of how they perform in the domestic league.
However, a future winner of the Premier League would not necessarily qualify for the ESL if it were not one of the permanent members.
If this were the case, that team would miss out on the millions of pounds in revenue which the Champions League currently generates in ticket sales and TV rights.
Why do the teams want a Super League?
One of the main movers behind the ESL, Real Madrid president Florentino Perez, claims that it will "save football" at a time when young people are "no longer interested" because of "a lot of poor quality games".
The founding clubs have been promised a share of a €3.5bn (£3bn) grant provided by the investment bank JP Morgan.
Most of them are in considerable debt, made worse by the Covid pandemic, with disrupted fixtures and a lack of spectators.
Big clubs also have superstar players with multi-million pound salaries to be paid.
If they can guarantee they're going to be taking part in a major European football competition every year, they will automatically become more valuable and stable businesses.
However, critics say that removing the element of competition for places devalues the game itself.